Ole Pioneer's Kitchen (OPK Foods Inc.) was founded in 2005 by Argentina-born Grace Brock of Vienna, VA. Their products are made and packaged in their semi-commercial kitchen. Absolutely no private labeling.
OPK
products are made with meats from local Virginia farmers, including:
These farmers produce free-range livestock which is naturally lean,. No steroids or hormones are used. OPK products are made every week, in small batches of 50 pounds or less, to assure freshness. Their products are free of preservatives, colorants, fillers, and added fat. In fact, any excess fat is trimmed by hand w
ith dedication and care. Boston butt, sirloin tip or porterhouse tails allow for a leaner product. The "buckboard bacon" is made using pork shoulder. The beef bacon is made from sirloin tip. The British style bacon comes from the center cut pork loin.
One market favorite is the sausage biscuit breakfast sandwich. Yum!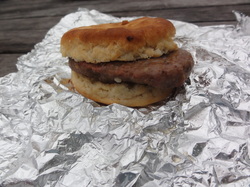 Updated to add:
Sadly, as of August 1, Grace Brock (and therefore OPK) will be out for the remainder of the 2011 season due to an injury. We all wish her a speedy recovery!