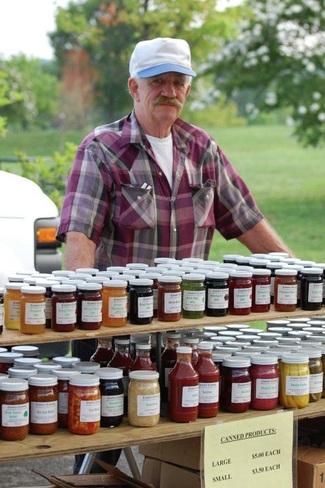 Based in Peach Bottom, PA
,
Tommy Tompkins has been with the West End Farmers Market since the first year when there were only six vendors. He is famous in the community for the cave aged cheeses he sells. It is easy to join the ranks of devoted Tommy customers once you taste his cheeses.
Although the name suggests only dairy, baked goods and canned products are also available. Most of his wares are made by the Amish, the rest are made by Mennonites.
The dairy products are the ones they are most proud of, including seven pre-packaged cheeses - which are not the typical run-of-the-mill cheese. They are produced from pasture-fed cows that are free of antibiotics and hormones. No chemicals are sprayed in the fields.There are eight farmers in all. All of them practice old fashioned farming. One farm's milk has been certified as "Kosher" by a group from Baltimore.
The yogurt, as can be attested to by other consumers, is of the finest quality too. It is made from the milk of grass-fed Jersey cows, free of hormones or antibiotics. It is about equal to Greek style yogurt in richness and thickness, although they are made with different processes.
My favorite flavor above all is the black cherry! Can't wait until it is the season for that!
More information is available online at www.amishcheesestore.com.