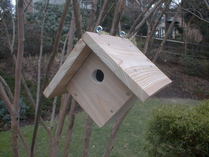 Ted has been involved with woodworking most of his life, but really got into it about eight years ago after he retired - making things for his grandchildren in his garage.


He sold some items at the Eldercrafter shop in Old Town Alexandria for a time. That evolved into an expanded product line and selling at farmer's markets.


Ted take pride in producing high quality hand crafted items (still working in his garage) and enjoy selling what he can at local farmer's markets in Maryland and Northern Virginia.