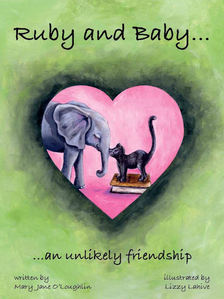 How can a wild, baby African elephant and a semi-urban, American housecat become friends? Find out in
Ruby and Baby... an unlikely friendship
.
Author Mary Jane O'Loughlin is a native Washingtonian who currently lives in Alexandria, Virginia. Mary Jane volunteers at a local animal shelter; she found and adopted Baby in 2005.
Mary Jane traveled to Kenya for 2 weeks with Micato Safaris. While initially her interest was in meeting a very special rhinoceros named Morani, she was unaware that she would fall in love with elephants. She had never seen them interact with each other in their world, where they belong.
When she came home, she told her little cat, Baby, all about her trip and showed her all the pictures she took of the animals. (If you are an animal lover, you are smiling and nodding your head right now.)
The gorgeous pictures in the book were drawn and hand-painted from ideas and sketches by Lizzy Lahive, based on Mary Jane's photographs of Baby and a 3 month old baby elephant named Bidi.
Mary Jane will be selling her signed and inscribed copies of her book at the West End Farmers Market on Sunday, November 6.