June is National Dairy Month! Started in 1937 to counterbalance a surplus of milk, the holiday came to be observed by visiting local dairy farms, sharing favorite recipes and, of course, consuming lots of dairy products! Whether you prefer it as yogurt, ice cream or a classic cheese you're guaranteed to be doing wonders for your own health. And if you're trying to get ready for bikini season, milk contains nine essential nutrients which may help to better manage your weight and is also an excellent source of protein to follow a good workout.

If now you're picturing a delicious grilled cheese or a tart berry parfait, keep reading.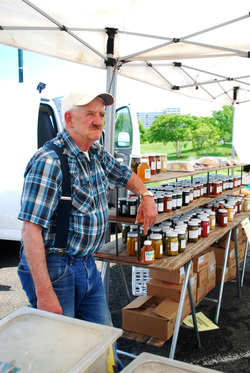 Tommy Tompkins has been with the market since the first year when there were only six vendors. Famous in the community for his cave and artisan cheeses, it is easy to join the ranks of devoted Amish Cheese Store customers once you taste his cheeses.

Bringing his wares from the picturesquely named Peach Bottom, Pennsylvania, Tommy's dairy products begin as milk from local, hormone-free, grass-fed cows. While you can find your basic Colby Jack and Cheddars, it's the cave aged cheeses which he assures to have the most complex and delicate flavors akin to those favored by upscale restaurants.
A quick visit to Amish Cheese Store's website gives you a good idea of the process involved in artisanal cheese making- a true art form you shouldn't let your palate go without appreciating!

To complement the cheese, yogurt and milk there are also several varieties of canned and baked goods to take home for breakfast. If you have never drizzled honey on a good slice of cheese or a greek-style yogurt, this is definitely the weekend to give it a shot.