In its basest description, the West End Farmer's Market is just that- a market, a commercial center. However, we know that produce and money are not the only things exchanged here. Our vendors are worlds in themselves; travelers, backyard farmers, musicians, artists, parents, all of whom have more to offer than baked goods and handmade jewelry.

So, it's time we were all properly introduced.
This season we are instating a new series showcasing our vendors in the many facets of their lives. Here you'll learn more about the person on the other side of the table, their motives and a little about their rich history. It's up to you to keep the conversation going- who knows what you'll find? Together we are already a strong community. Let's continue the bond and build a network of resources, to everyone's benefit.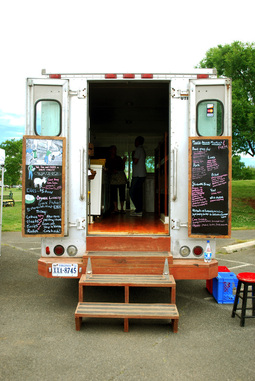 You've seen the truck, maybe even taken a peek inside. Maple Avenue Market has it pretty easy setting up come market day, and if you step right into their mobile shop you'll see that they have an easy time cleaning it out as well.

Chris and Sara Guerre own Maple Avenue Market in Vienna, a brick-and-mortar home for the products of many farms and fields in the Mid-Atlantic region- from Pennsylvania to North Carolina. This diversity assures that there is something for every client, young to old, vegan to meateatarian. Shelves are stocked with the freshest produce, dairy, grass fed beef, gardening supplies and even cookbooks to inspire culinary masterpieces (or, you know, dinner).

Best recognized by their notable silver truck, Maple Avenue Market's first shop is the one we now see on Sundays. Using it to reach out to the community to embrace the "locavore" lifestyle, On the Gourmet also delivered Sweet Rose Farm's CSA shares as well as their own products in the Vienna area. Though it no longer has the busy schedule it once had, the owners are planning to give the truck a well needed facelift and name change to better represent Maple Avenue Market's current place in the business.

The semi-retirement of the On the Gourmet truck made a place for the owners to begin the Maple Avenue Farm where, in partnership with Arlington County Public Schools, they grow some of the ingredients for the county's school lunches. Despite the magnitude of their work the owners hope to keep growing; connecting more school systems with local farms and supplying people with the foods they'd love to be eating. The Guerres are passionate about using organic growing techniques at the Maple Avenue Market Farm... and for encouraging us all to create change from the ground-up.