In case you missed it earlier, this season we are excited to instate a new series showcasing our vendors in the many facets of their lives. Here you'll learn more about the person on the other side of the table, their motives and a little about their rich history which led them to be a part of the WEFM community.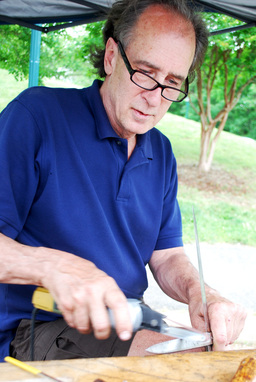 Sitting patiently with the grinder, Rod Koozmin works magic on one of the most essential tools of the cook- the knife. The banner at his small stand reiterates what all his clients already know; that "a sharp knife is pleasure to use", and of course this is no secret. Mass merchandisers produce blade after blade insisting its durability and precision but, keeping things simple, Rod gives new life to the beloved instruments of the kitchen, the garden and the salon.

Having had experience crafting boats in Maine, Rod continued fiddling with tools until a few years ago when he began offering his sharpening services at several local farmer's markets in addition to the Vienna Magruder's, Maple Avenue Market, Culinaria Cooking School and other area establishments which he frequents.

Sharpening knives is not only an eco-friendly alternative to total replacement but also prolongs the lives of sentimental objects. The idea of carving the Thanksgiving turkey with a knife passed down generations or trimming your hair with grandpa's old scissors is a simple and nostalgic pleasure indeed.