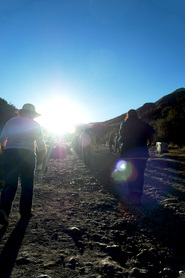 Sensationalist reporting may have scared you into believing that the sun is nothing but skin cancer waiting to strike you and the only way to prevent it is using SPF 100 (which, if you read
this article
, is really just kind of overkill). In reality, the sun's UV rays are the main producer of Vitamin D, a fat-soluble vitamin which isn't overabundant in nature except in foods high in Omega 3s and those fortified with it such as milk, cereal and good ol' OJ.
Vitamin D is largely responsible for the proper mineralization of bone but also promotes the absorption of calcium, also a big contributor to the skeletal system. In the 19th century, studies were performed on patients with rickets and found that doses of cod liver oil, the best edible source of Vitamin D, were able to reverse the effects of the disease and in 1930 milk began to be fortified with it. With that, rickets, which was known for its telltale bone deformation, became as irrelevant to the modern world as scurvy.
Whenever cases are reported today it is usually in people who spend a majority of their day indoors (homebound individuals, office workers, video gamers), and those with darker skin as the higher levels of melanin block some absorption of the sun's rays. A
recent study
published by Kaiser Permanente has also shown that women over 65 who had insufficient levels of Vitamin D tended to gain more weight than those who kept their Vitamin D at adequate levels as they aged.
Now don't get us wrong; we are in no way promoting gallivanting about in the sun all day- you don't need much exposure to get your fill and besides, sunburns and melanoma are serious reasons to refrain from such activities- nor are we defaming the name of sunscreen (in fact, sunscreen is the only "beauty" product which does prevent premature aging and it should be a part of everyone's daily toilette).
But you remember how overuse of hand sanitizer bred super resilient bacteria, right?
If the infamous "they" are saying something, it's probably as fact based as a rumor. Do your research too. Don't forget "everything in moderation", protect yourself and especially kids who are more susceptible to sun damage, and absolutely do enjoy your time outdoors this summer.