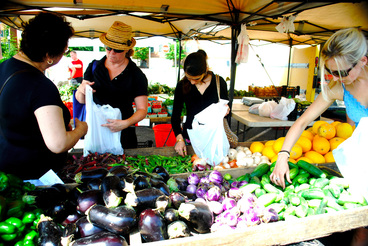 They say that first you eat with your eyes. Food can look wonderful but in the wrong hands, it could be a less than pleasant experience. Even then, in the hands of a professional, lackluster ingredients can't perform the same way that it's gourmet counterparts could. Still, this is only referring to the physical qualities of food, nutritional (and monetary) value is a whole other battle to be waged in the grocery.

Yes, ladies and gentlemen. Shopping is a crucial part of food prep, and not just because you need ingredients to cook. Food should not only taste good, it also needs to be good for you. Smart consumerism is often taken to mean getting the most bang for your buck, but as Kerrie Martin, a certified Holistic Health Coach, and Penny Capps, a certified Massage Therapist and Personal Trainer, want us all to know that when it comes to your health quality is far more important than quantity.

As a part of their discussion series "Making Food Choices Count", the duo held a casual field trip at our very own market. The group was eager to explore, shop and learn more about the things offered by farmer's markets, as well as the buzzwords attached to them. So, armed with reusable grocery bags and a ton of questions, they got hands-on with their food.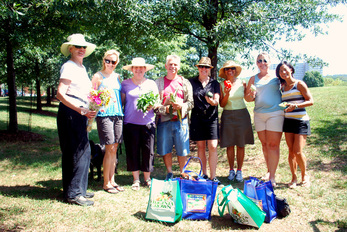 Local food, quite plainly, means that it is from your area. This means less transport costs, less carbon emissions and no need for preservatives on your produce. Logically, the less your food is tampered with, the more healthful the dish it goes into.
Organic food is a bit trickier. In the U.S. food must contain 95% organic ingredients to be considered organic which isn't the clearest of answers, is it? Basically, this
pertains more to the production of the food and means that no synthetic additives such as chemical pesticides and fertilizers have been used to grow them. FUN FACT: organic, in the chemical sense, refers to a set of molecules which are carbon based, all of those present in lifeforms. So, to chemists at least, everyone reading this is organic! Inorganic, on the other hand, gets bandied about when talking about food when really it has nothing to do with the nutritional usage, just chemical. Go ahead, impress your friends.
Attaining
"Organic" certification is about as easy as understanding what it means. Therefore, while our vendors may follow procedures which would put their produce in that category,
it just doesn't have the certification proclaiming it to the world.
Ask our vendors specific questions about
their farming practices and even about their products. This is the time to learn how to choose a good watermelon or eggplant! Even if you aren't part of Kerrie and Penny's group, free food lessons are always available at the market. Farming is often a family act and something our vendors take a lot of pride in, so ask away and learn something new this weekend.