At least once or twice a year, tucked in between a report about two political leaders having a discussion and That Celebeutante's latest brush with the law, there's a wee bitty piece about some foodborne illness outbreak.

First, they begin with something to the effect of "Despite encouragement from our mothers to consume more (blank), we might want to steer clear of this particular produce for the immediate future." Then, they go on to very blandly tell us that some cases of salmonella have been reported somewhere and to refrain from eating it until the FDA gives us an all clear, which rarely happens because in two weeks the next scandal has wiped any mention of disease from our minds.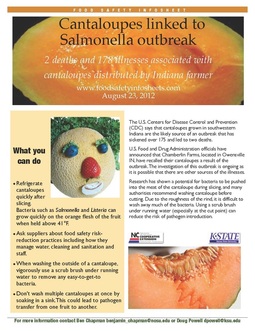 Click image to view
Ignorance is definitely not bliss if you fall victim to either salmonella or listeria, two common foodborne illnesses. A recent outbreak which has been linked to cantaloupes has resulted in two deaths this season.
Always remember to wash your fruits and veggies before eating them, not only for disease prevention but to get rid of any critters and particulates which may have hitched a ride on your broccoli.
Disease isn't harbored only in growing, it can be picked up by
improper handling, storage and transport
.
Before you cut into the last of the summer's melons, give the outside a good scrub (with a scrubber, not your palm). Why? Pathogens can be tracked in by a knife, and that knife can cross contaminate if it is not adequately cleaned.
Although tasting fresh produce is part of the charm of farmer's markets, salmonella and listeria flourish in temperatures over 41 C. So, for the sake of everyone's health,
we've made this little PSA and hope everyone takes away something more than "AVOID" and learns a thing or two about food safety.