Let's play an end-of-summer drinking game you guys. You can play all the time, driving or not, in the morning, at work and the best part is that if you play you win every time. Go down to your local mass retailer, grab the prettiest water bottle you can find and hang on to that sucker all year long. Our drink of choice will be water, the most vital substance to life, and the only side effects* are glowing skin, healthy kidneys and a happy tummy.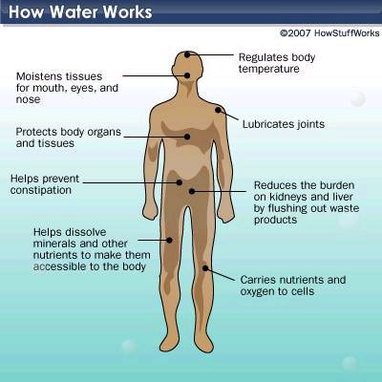 Image from howstuffworks.com
First, some reasons to play:
A person can live without food for weeks depending on their
Body Mass Index
. In a starvation scenario, body fat can be burned for energy but once it is expended the muscle mass begins to suffer. And, since many vital organs are muscles, expiration is usually next. Of course, this is assuming the person has access to water. Without it, however, things become far more serious.
An average of 1.5 liters is lost daily in bodily fluids. On hot days, that volume accounts only for sweat and if you're not drinking enough, dehydration can set in in a matter of hours. It starts as a mild headache and lack of sweat, things that can can be easily brushed off. But with no water at all even the healthiest person would be in trouble after 4 days, and that's after the nausea, vomiting and shock.
Even though water gets more advertising during the hotter months, it is by no means a seasonal beverage. You
don't need the famous "eight glasses a day" since eating regular food will cover a chunk of that intake. Just remember that water is a calorie, fat, sugar, and sodium free way to keep healthy, something many other drinks can't say the same about themselves.
Before you reach for a cup of coffee in the morning, do like the Italians and grab a glass of water. "But why if coffee is mostly water?" you might ask. Yes, but caffeine is a diuretic which is why every soda hater tells you that those drinks will dehydrate you. When you eliminate fluids, especially after a fast (which sleep is) you are missing some of the water needed to do the things in the above diagram, taxing your body first thing in the morning which won't help the rest of the day run smoothly.
"But isn't fluid retention a bad thing?
" Fluid retention is often caused by vitamin deficiencies, an excessively salty diet and many medications
, and drinking water actually helps to get rid of it. Despite it's commonness, it's a symptom for more serious things as well, so it's not something to be ignored.
Let's imagine a latte in the morning, a Coke with lunch, cranberry juice as a healthy refresher and some iced tea with dinner- the water goes right through you and what's left behind are fats from milk, sugars (natural or not) and caffeine. Try this instead: get that fancy pants bottle, fill it and drink some at a stop light, whenever Carly Rae Jepsen is on the radio (which, btw, is all the time), and during other quotidian events. Make up your own rules. Get your youngsters to play with you. Think of the cash saved from the aforementioned list of drinks. Let's say a latte is $2.50, a vending machine Coke and juice total $3.00 and a home-brewed iced tea is $0.50. That's six dollars a day, times five days in a work week, giving you a bonus $30 at the end of each week. Don't touch it for a year and now it's $1560, or a relaxing four day cruise in the Caribbean for two- meals included.
That's right. Start now and next summer's vacation is paid for.
*Too much of anything, even something as good as water, can be harmful. Don't overdo it or you run the risk of diluting your blood which can be fatal.