Hey folks! It's been a while since our last blog so we want to start off on a far more playful note than food borne illness. Actually, this was brought on by a recent trip to a big box retailer and a light background in sociology.

Here at WEFM we know that food is a strong binding material for families- we see evidence of that every Sunday. Understandably so, playing house and, in particular, kitchen, is something which children do in all cultures. Stroll down the right aisle at your local toy store and you'll find miniature versions of your kitchen appliances, utensils and even produce molded from colorful plastic. But then take a closer look.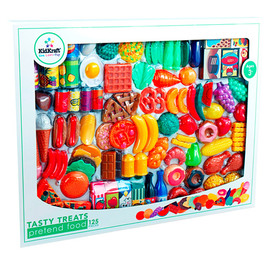 Maybe rename to "Dorm Life Food Set"?
Eye catching, no real-life brands being subtly advertised to kids, a general assortment of fruits and veggies. Put it in the cart, right?

Well, first examine the 'health food' to 'junk food' ratio. Seems like a lot of carry out, sugary snacks and desserts for a kid's toy. At least 14 of the 125 pieces are some manner of fried potato product. They're hard to tell in one glance because there are over a hundred little pieces to look at AND all the snacks are hidden close to the border.

Still, this is not bad. Once I saw a set have the audacity to print on a mini-cereal box that it had artificial colors and flavors! Probably not the right message we want to give our little ones.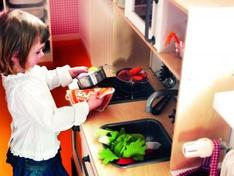 The mini-chef, playing Thanksgiving
IKEA catalogs paint such a lovely picture of this game, complete with wee stainless steel spatulas and sauciers. Their sets, while pricey, are made of soft fabrics which can be washed after someone gets a little too into pretending to eat grilled salmon.

Similarly, Melissa and Doug toys feature more fresh foods in great sets which can be applied to learn direction following, patterns and simple fractions. Also pricey, I would consider them like a nice wooden block set- something you'd be willing to keep for grandchildren.
Or do it the old fashioned (and probably cheapest) way. Include your kids in the kitchen. They're more likely to eat whatever they've had a hand in... yes, even the stereotypically dreaded veggies.
Start with something simple like boxed mac 'n' cheese
(
Annie's
is my favorite) but jazz it up! This is one of the easiest things to hack because cheese is so versatile. Before the pasta is fully cooked, toss in your mix-ins so they can heat up. Frozen veggies are easy for toddlers to scoop but a more dextrous child might like slicing up a hot dog with a butter knife (and adult supervision of course).
Level up to pizza which can result in funny faced pies or the epic RAINBOW PIZZA
. Before you know it your kids will be informed eaters and your kitchen will be a total mess. But you know what? That's probably worth it.