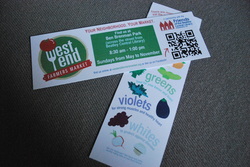 Dramatic lighting!
Our 2012 season is over but thanks to our partnership with the Friends of the Beatley Central Library, the fun will go on into the winter!
If you've stopped by the Friends' booth any of the past Sundays, you might have picked up this guy, designed especially to keep two very important activities together- eating and reading. If you didn't, download a PDF
here
!
We designed this handy bookmark for many purposes. First, to connect us to our geographical location. We are right across Duke Street from our city's biggest library, and one that sees so much activity. Thousands of people use the Route 236 corridor
EVERY DAY to access the highway and get to their schools, jobs, and other places of business. Perpendicular to that is also the Holmes Run Trail, which believe it or not, will get you to Eisenhower Avenue much faster walking than driving. There are at least ten residential towers and apartment complexes which to which it is easily accessible, not to mention all of the area between Seminary Hill and Alexandria West. The Library and the Market are in the perfect location to serve a huge portion of our fellow Alexandrians.
Secondly,
we believe that eating well doesn't require a fat wallet or a nutritionist. When people are stranded at sea, they begin to crave the things that they need and will skip a fishes' flesh for its liver. Humans instinctively know what's good for them. And you know when you're skimming through Saveur the things that make you drool are usually the most colorful. Haven't you ever been infatuated with a gorgeous Cobb salad? Isn't pico de gallo like the vegetable sprinkles for savory foods?
Also, consider the learning opportunities for young kids. Use the bookmark to start teaching colors, or if you're working with someone a little older introduce color theory! Take it to the grocery as a scavenger hunt list. Make spaghetti but then give it sidekick! Maybe something green for a complementary color, or perhaps orange and yellow carrots for a warm color triad
. This was made with a focus towards kids but clever parents can always find multiple lessons to teach from one thing.
Finally,
this is a bookmark. Save the page with tonight's dinner recipe with it. Tuck it in your current novel. Use it at the library while browsing books to mark where you pulled something from so you can return it to the right place. You know what to do.