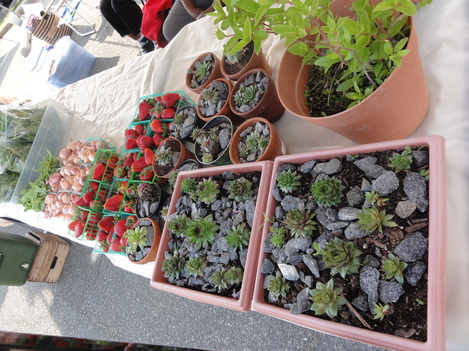 The practice of modern, organic, sustainable farming began in the 1950s in response to large agribusinesses' use of petroleum based or synthetic pesticides and fertilizers which were found to be harmful to humans. The number of farmers practicing organic farming at that time was very, very small until the late 1980s, when customer demand created a growth spurt in organic farms. In 1990, the Federal Government legislated strict standards for achieving an organic certification. Unfortunately, meeting the standards and being certified is quite expensive and time consuming. Many small farmers cannot afford it and in some places, organic has been usurped by large agribusiness.

The advantage of eating local fruits and vegetables over licensed, organic long-distance farmers' produce is that unripe produce is typically gassed, irradiated, or frozen to keep them in stasis until they reach their destination, four to seven days later, and then gassed, irradiated, unfrozen and chemically induced to become or look ripe. Local foods are almost always picked the day before you purchase them when they are at the peak of the ripeness and thus are full of flavor.

At the West End Farmers Market the farmers who are closest to organic farming, but who do not have a certificate would be Papa's Orchard, Maple Avenue Farm (sold at the On the GOurmet Truck) and Shamba Farm (pictured above). All the other produce and fruit vendors attempt sustainable farming techniques by using minimal amounts of fertilizer and pesticide.

Please talk to our farmers. They can tell you way more about their farms and love to talk about their business.